Yuki's in Horror Movies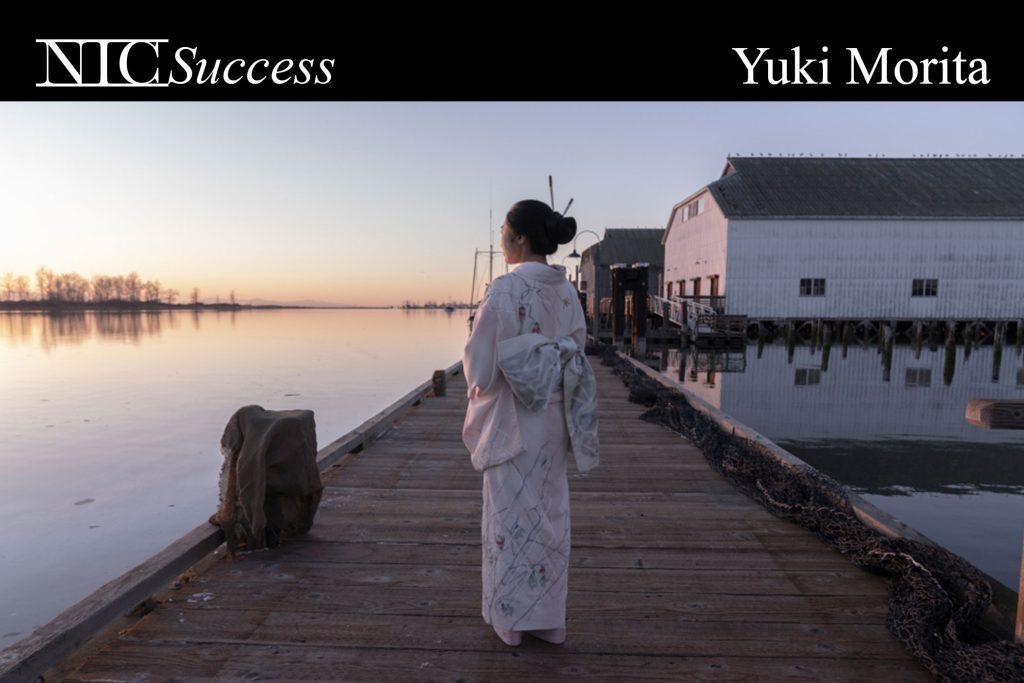 New Image College Film Acting Conservatory graduate, Yuki Morita had a memorable role in Ridley Scott- produced The Terror: Infamy. The opening scene where Yuki is in was premiered in Comic-Con in San Diego this August and since it aired on TV, her scene received great responses.
"This is the first and perhaps the most viscerally frightening scene of the Terror: Infamy, the second installment if AMC's historical Horror-anthology series." – The Atlantic
"its best horror moment in the early going is also its first scene" – Daily Beast
The Still Shot of Masayo, played by Yuki, was featured in top critic's reviews including Variety, The Boston Globe and others. Yuki also got a role in a feature film, Two/One which was screened in Tribecca Film Festival this year. She acted opposite Boyd Holbrook (Narcos, Predator and Logan). Yuki says "I am very fortunate to have experienced great roles in great TV shows and Movies. I will work harder to be a better actor."
Congratulations on all of your incredible achievements so far Yuki!
---
Booked A Commercial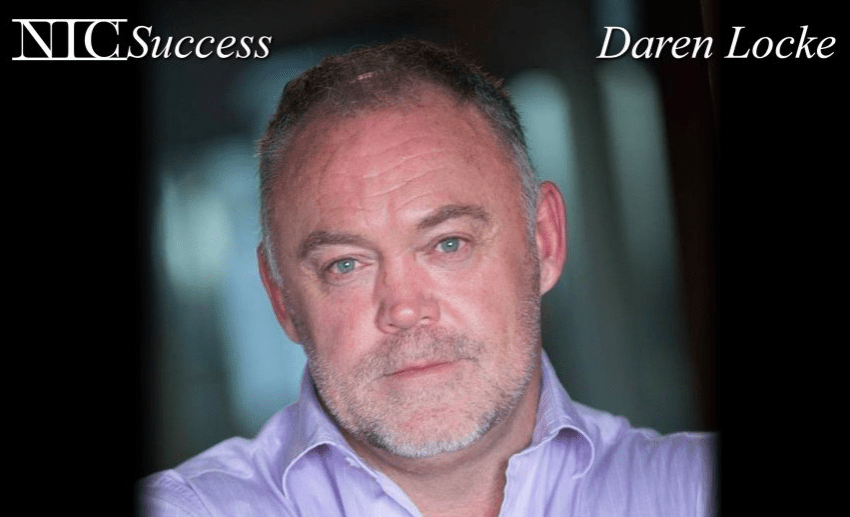 Daren Locke booked a very high-paying commercial for, The Miners and is on hold for another one. Daren's hard work and training paid off because since graduating Daren has acted in four films.
---
Flown To A Movie Set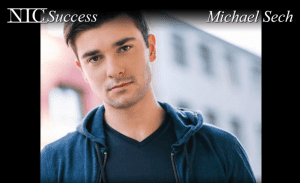 Michael Sech found out what it's like graduating from one of the very best film acting programs in the country. He just booked a great role in a movie that we can't mention yet. But we can tell you this, Michael will be getting on an airplane soon and is being flown to act in another city! Congratulations on this excellent opportunity Michael!
---
4 NIC Actors Selected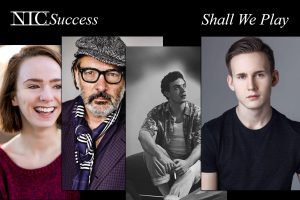 Important New York City / Vancouver Film and Television casting director Ann Forry is making her feature film directorial debut with a script she has written called SHALL WE PLAY. Ann Forry was determined to find the very best actors and she found four of them in New Image College's Film Acting Conservatory. New Image College has one of the finest acting programs in Canada.
That's why Film Acting Conservatory graduate Blake Williams has been cast as one of the leads in the role of Matt, and fellow NIC graduate Josh Dohyhas been cast in the role of his best friend Alex. Our Acting Department Head, Philip Granger, is also joining this team in the role of Bob Cooper while Acting InstructorJessica McLeod takes on the role of Jess.
Ann Forry had her choice of actors from across the country. She needed the very best and she found them. Right here at NIC. We are excited to see what this amazing combination of talents will bring.
---
Acting Role in Brazil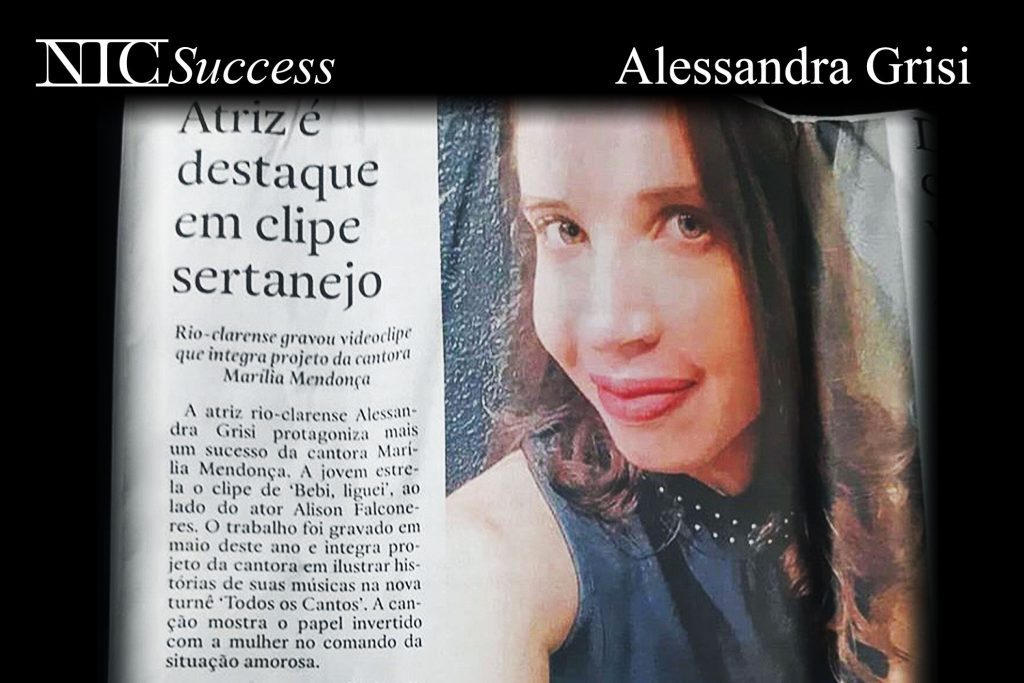 Our alumni Alessandra Grisi has been featured in a Brazillian newspaper for being cast in a starring role. The actress was pleased and happy to be selected by Fabio Sigillo Productions to be part of a story that illustrates the song "bebi, liguei" from the famous Brazilian singer Marilia Mendonça.
The film, starring Alessandra and co-starring Alison Falcineres, will be played during the famed singer's concert. Congratulations Alessandra, this is really great news.
---
Working in the BIG Leagues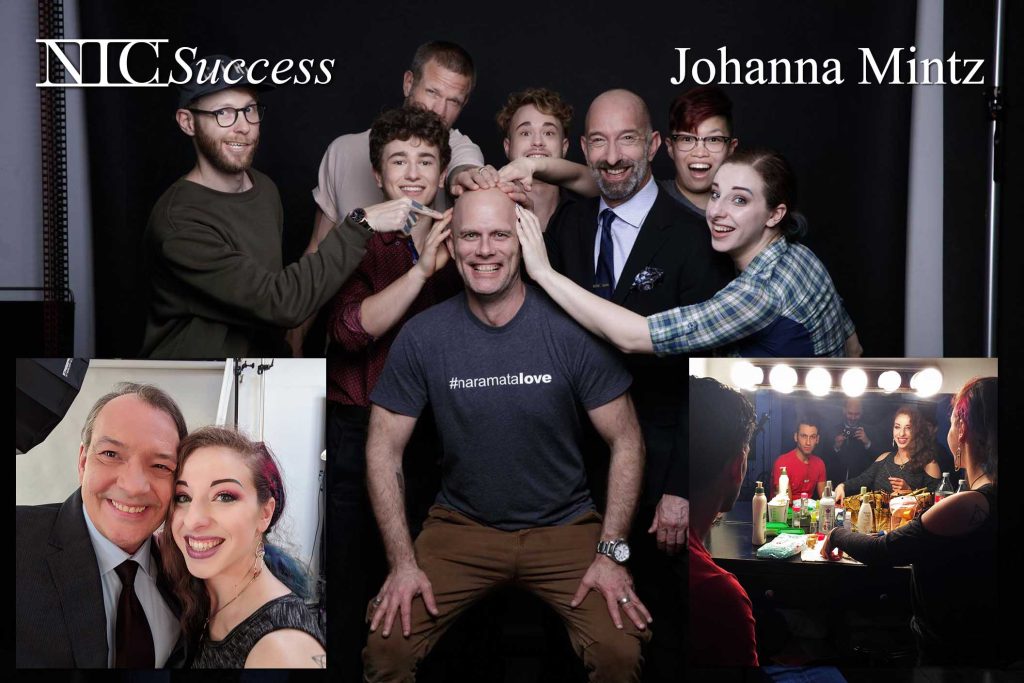 One of our current Fashion & Film Makeup Design students, Johanna Mintz, has become something of a rising star among her peers! We've had the honour of watching her artistry grow over her time with us, producing countless amazing beauty makeup shots, high-fashion, movie makeup and especially stellar special effects makeup which you can view on her linked WordPress above (click on her name) as well as on her Instagram.
We recently spoke to her as she's been working on and off with the amazing Charles Zuckermann and she had this to tell us:
So I'm in the Fashion and Film Makeup Design program, set to graduate in September (2019). I was actually part of an on-going project called Sunday Portrait Sessions (#SundayPortraitSessions) that Charles Zuckermann has started. I'm happy to say I've become one of the 3 cycling Makeup Artists who work on this project, and it's been both a great learning experience and also so much fun to be a part of. It ranges from Headshot Style Editorial, to out-there shots that push both me as a makeup artist and the actors to get to have more fun and be a little silly.
---
New Movie Role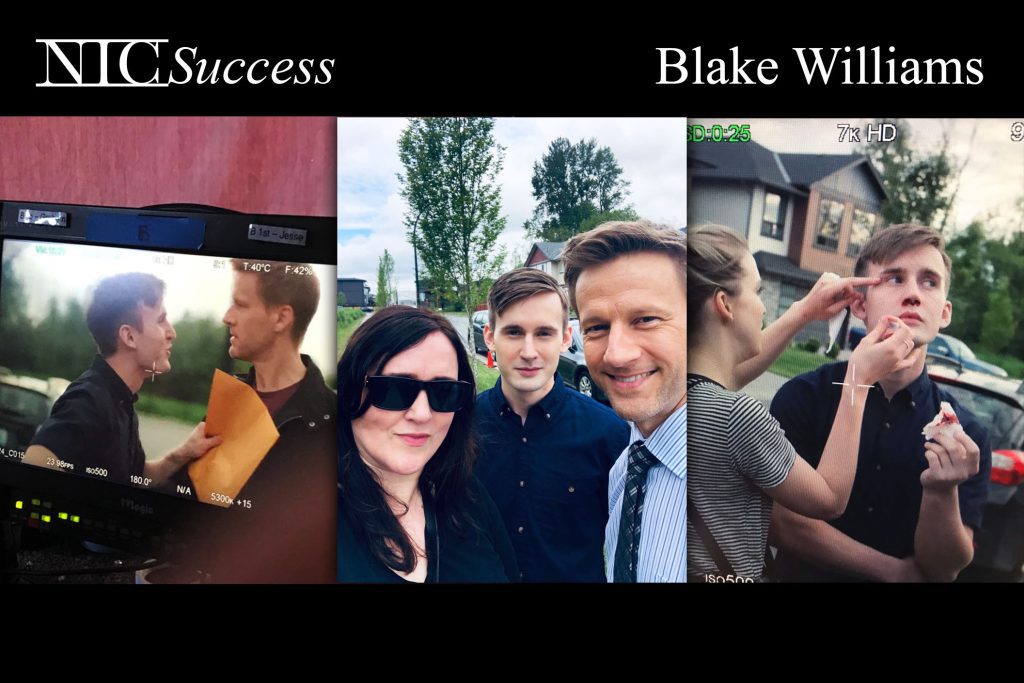 Blake Williams on set taking it all in with Ann Forry and Jason Cermak. New Image College Film Acting Conservatory success Blake Williams, books a great role on "Hush Little Victims" a new lifetime movie of the week! Blake being very shy when he started his training at NIC ,slowly found his voice and became an extremely well-trained disciplined actor, who also became very comfortable and confident within himself.
This takes hard work and Blake was never shy of putting in the hard work. While at NIC he met casting director Ann Forry when she attended our New Image College audition module. This is where the second year students are introduced to agents and casting directors.
Ann Forry was so impressed with Blake that she invited him to be her reader and casting assistant. Ann was also very excited to cast Blake in his first major role with Director Jason Bourque. Congratulations Blake. We are very proud of you.
---
He is Godspeed in Flash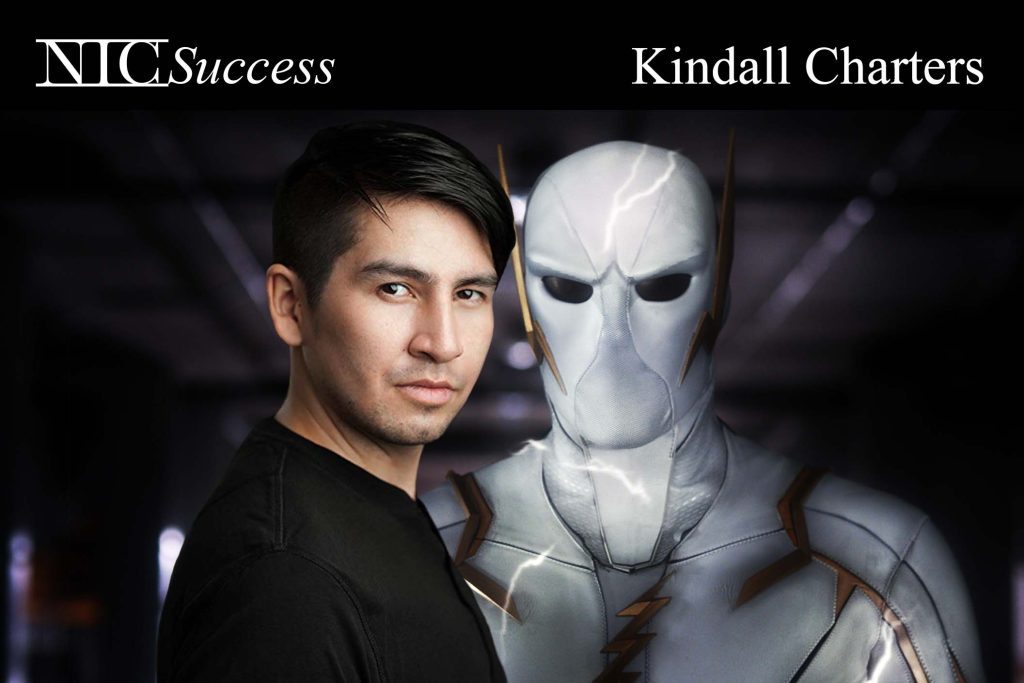 Kindall Charters has been cast for CWs The Flash as the DC comic character GODSPEED! Kindall was a driven and committed student during his time with us. He has always been very focused on his training and has always had clear goals in mind with the determination to achieve them.
Since graduating he has worked as an actor in Europe, the USA, and extensively in Vancouver. New Image College dogma is hard work wins.
Kindall is a solid example of having one foot in front of the other marching towards his goals. We are so proud of you Kindall, and we are honoured for having been a part of your amazing journey to success. Congratulations Kindall!
---
Acting Role in The 100
Jacob Tazelaar is lighting up the screen on the WB hit TV series The 100. Jacob worked hard and put the educational time in at his film acting conservatory program training.
During the audition showcase, Jacob met his agent Carrie Wheeler and together they have been putting up great success stories. Congratulations Jacob. We are very proud of you.
---
Acting Role in Short Film "Alien: Ore"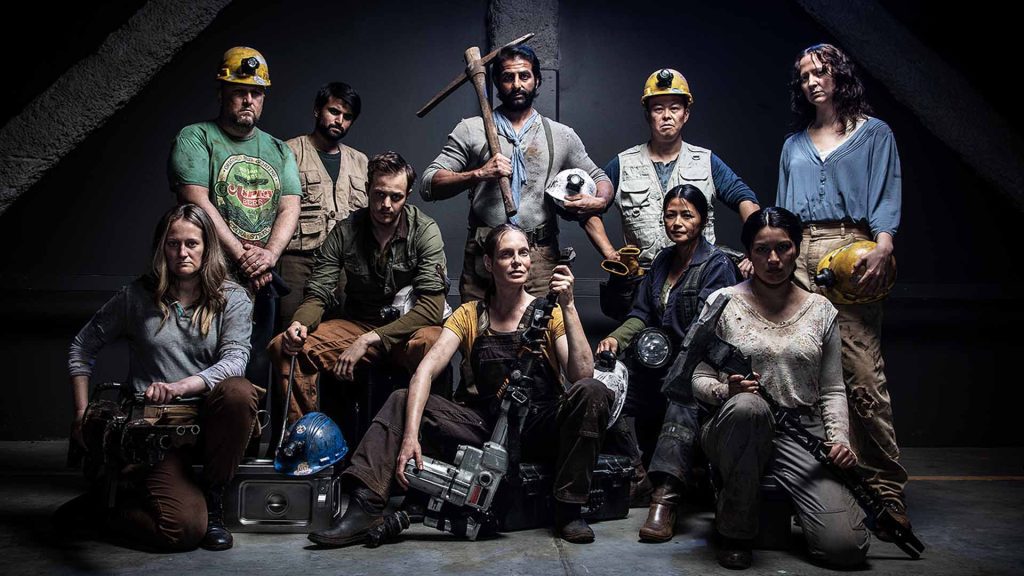 Every now and then an amazing talent walks through our doors and you just know that this person is going to shake things up wherever they may go. That's the story we are telling today: Alexandra Quispe was a star student when she walked through NIC's doors to learn from our Film Acting Conservatory, but she has certainly gone on to shine even more since then.Now – and just in time for Alien's 40th Anniversary – she's gotten herself neck-deep in trouble with a Xenomorph – in the short "Alien: Ore" brought to us by the Spear Sisters – as a miner working with a team at the Bowen's Landing colony.Enacting the role of Winni Mamani, she's gone on to showcase her amazing skills – and of course, get herself killed in stellar fashion as that's just how it goes when a Xenomorph's involved – in none other than a short that everyone should absolutely watch!If you ever wondered about the community and talent we help build and grow here at NIC? Look no further. Alexandra reached out to our Head of the Acting Department, Phil Granger, for some tips to get ready for the audition she went to that got her this awesome role.The next step after that is for us to congratulate her for not only landing the gig, but also for a job well done in a career that we are truly very proud of. Alexandra, keep on rocking out there, and we wish you, your fellow actors, and the Spear Sisters all the luck in the world in promoting this amazing short film.

Your hard work looks incredible and does honour to the ongoing Alien saga. For the curious and strong of heart (read: love Alien films), feel free to watch on down below or visit IGN at the link to this video here: Alien 40th Anniversary Short Film: "Ore"
---
Wins Grant Money For Film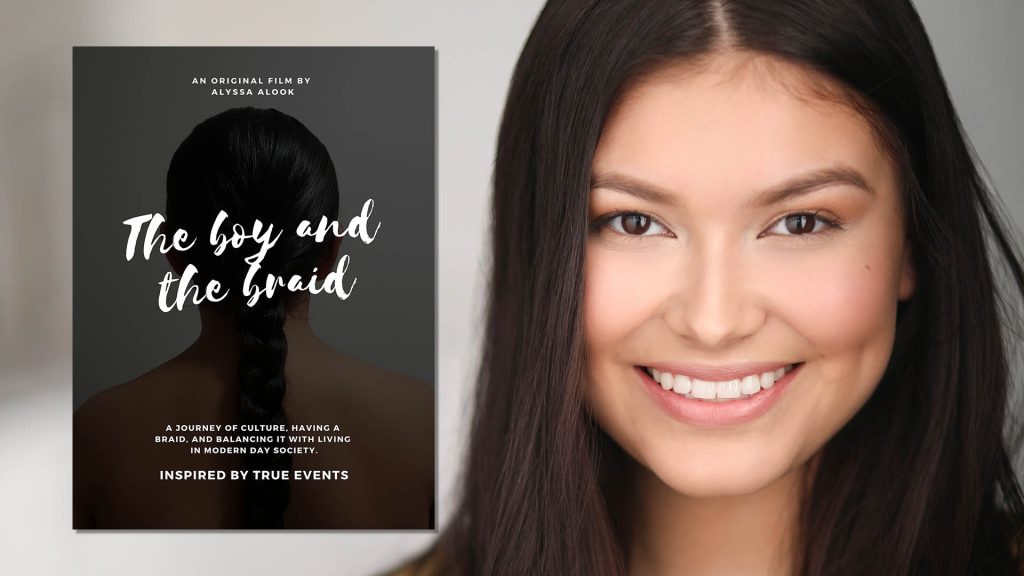 Alyssa Alook has been awarded the Telus' Storyhive Indigenous Storyteller Edition grant to produce her amazing film The Boy And The Braid!!!
In this drama, Nathan experiences the good and bad of wearing a braid in today's society. He embraces his culture as an aboriginal person, sadly, these days wearing your culture has lead people to discriminate, bully, and outcast. Many young first nation boys experience this TODAY. The Boy And The Braid will bring you to tears, then give you hope as we tell Nathan's story from the inside out. Some people did not survive the residential schools… Some do not survive the EFFECTS of residential schools…
Alyssa was raised in the woodlands of Northern Alberta and is a Cree First Nations actress, writer and film-maker. She later moved to Vancouver to follow her dreams and is now a graduate of New Image College, where she gained a 2 year diploma, in acting for TV and film.
The Boy And The Braid will be released in July 2019, and you can watch the Pitch Video for this amazing story below! We can't wait to see it, Alyssa! Great job and congratulations!
---
Flown to Australia to Film: The Outlander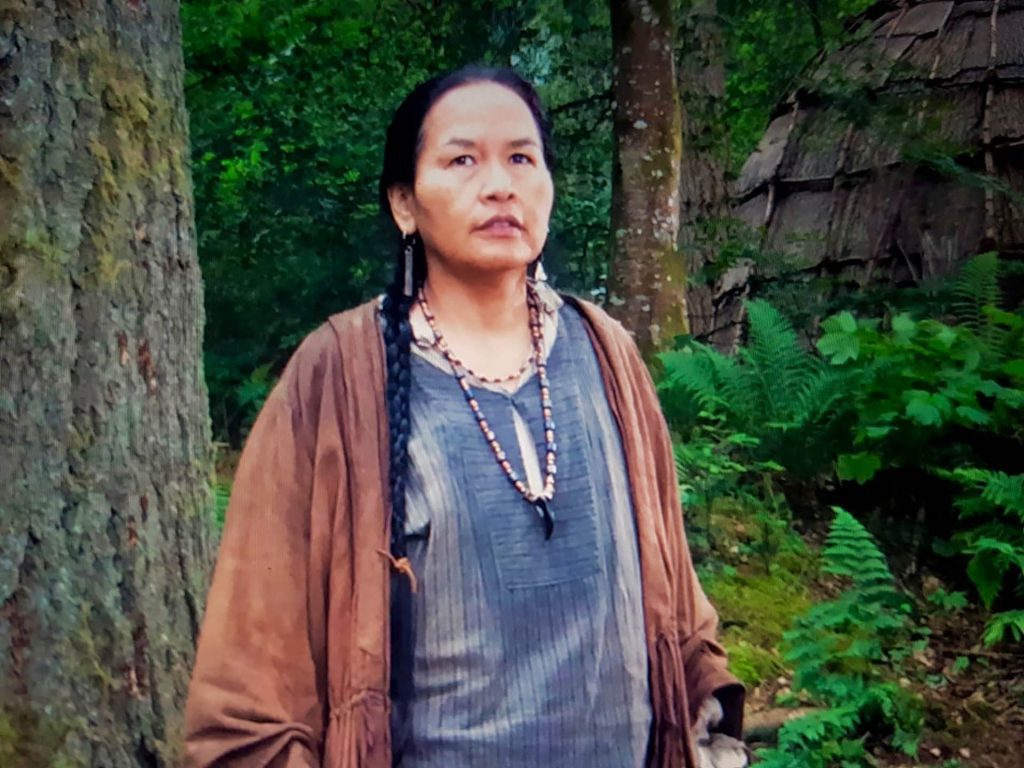 Taninli Wright was flown to film the Outlander series in Scotland. Taninli, a proud member of the Wet'suwet'en nation, had a career as a school teacher in Williams Lake, BC, but always dreamed of being a film actress. She then moved to Vancouver to attend NIC's acting program.She worked very hard at her studies and projects. She loved her experience at NIC so much that she re-did her vows to her husband in a ceremony in the lobby of our school. It truly changed her life.One of her goals as an actress is to present characters that shed light on the injustices suffered by First Nations people, but also of their successes and thriving culture. Through her acting she can and has given more visibility to native people in an industry with very little representation.Taninli says:
I would like to thank all those that supported me thus far, and, this is only the beginning!!!! I have no words but just to raise my hands in gratitude.
---
Our Alumni Team Up For More Success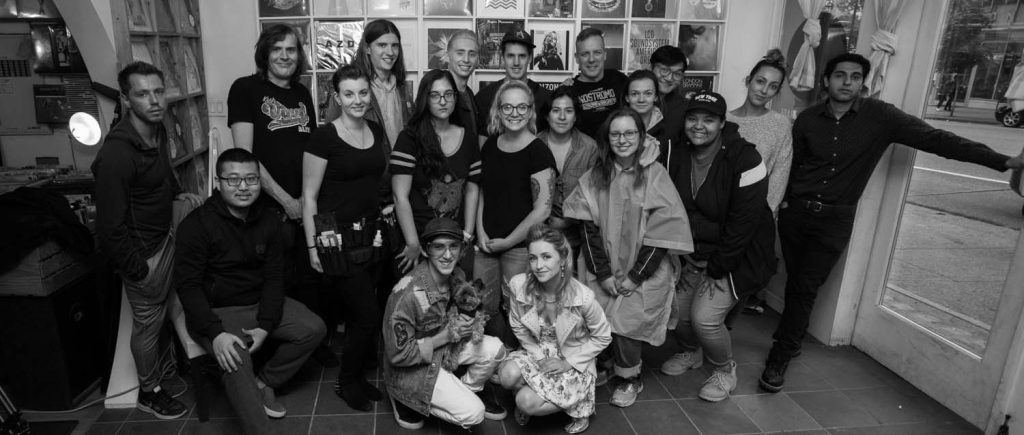 NIC Film Acting Alumni Dakota Daulby, and NIC Makeup for Fashion and Film Alumni Christa Mills team up on the short film, Vinny's Girl, which has recently been accepted into Downtown Urban Arts Festival. Screening in New York City, Vinny's Girl is one of the three Canadian films selected for this year's programming.
Directed by Harrison Houde, written by and starring Zachary Gulka, and Emily Tennant, Vinny's Girl is about an awkward dreamer who falls deeply in love with the voice behind his favorite album. Vinny will go to extreme lengths to rid himself of his current reality and hopefully collect his dream girl.
Dakota Daulby produced the film alongside Wai Sun Cheng, Zachary Gulka, Artin John, and Phil Planta. Christa Mills, who also recently competed in IMATS Vancouver, acted as Key Makeup, Hair and SPFX Effects on the project! We are very proud of you and your team's great work, and look forward to seeing more exciting films to come!
---
LEO Awards Nominations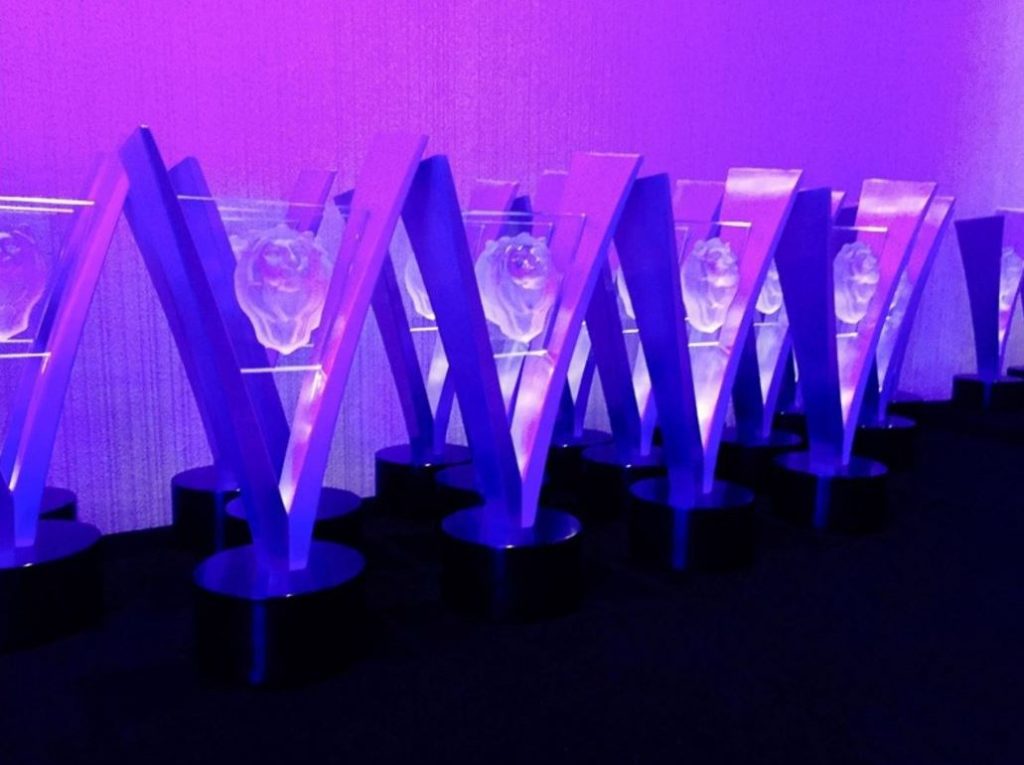 Taylor Hastings & Jess Hawkins, alumni of New Image College, for a 2018 Leo Award! The Leo Awards are an important feature in the Canadian film industry.
With Canada (British Columbia in particular) being referred to as Hollywood North for film and television production, it would only be right to have an awards ceremony to honor this.
Created by the Motion Picture Arts & Sciences Foundation of British Columbia, The Leo Awards celebrate excellence in film and television in British Columbia. Taylor, a graduate of the Film Acting Conservatory program at New Image College, is being nominated for her incredible role in the short drama, A Ride Home.
Taylor's hard work and dedication to the craft led her to be cast as the lead in Laura Adkin's Vancouver International Women In Film Festival screened film; an amazing accomplishment from one of our own!
Jess Hawkins graduated from New Image College's recognized Fashion & Film Makeup Design Diploma program. With this program allowing graduates to work in a variety of industries, including film, it was no surprise when she began to freelance in the film industry.
Soon enough, Jess landed a job working on the set of WoodMan, a short film released in 2017. Her work on this fantasy film showcased her impeccable skill, landing her a Leo Award nomination for Best Make-Up, a celebrated achievement. New Image College is proud of our accomplished graduates and celebrates their achievements!
---
Our Actress Nominated for Leo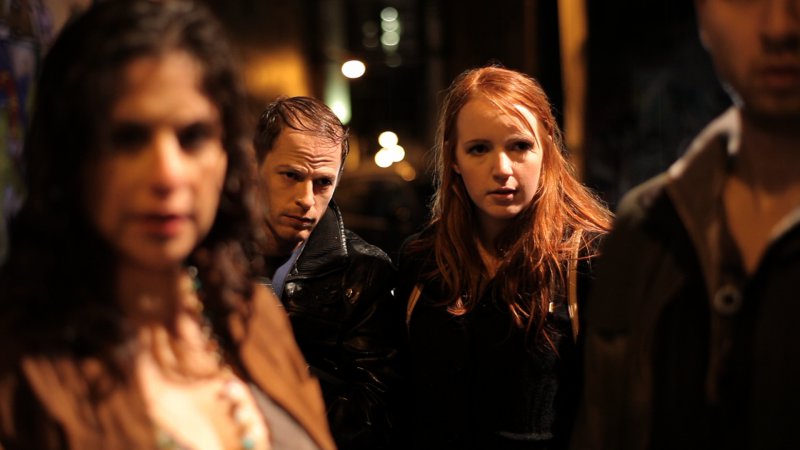 New Image College Acting Conservatory Graduate Taylor Hastings has been nominated for the coveted Leo Award! While Taylor attended New Image College, she was encouraged to write as well as act. The Acting Department asked Taylor to write her own scenes for the New Image Entertainment film, Bad Building.
She demonstrated her discipline and impressive work habits to the faculty time and time over again, confirming that she would not only be a contender as an actor, but also a creative creator. This was confirmed to us all when she wrote, produced and starred in the film, The Ride Home.
Her talented work has now been recognized, as she has been nominated for a Leo Award for this work, This is an amazing achievement! Her career so far has landed her representation from The Cue Agency. She's staying busy filming roles in hit series such as: DC's Supergirl, The Good Doctor, iZombie and The Bridge We are always proud when one of our own is recognized in such a prestigious way, Congratulations Taylor!
In addition, New Image College Film Acting Conservatory Graduate, Taylor Hastings, has been taking things into her own hands! Recently, Taylor wrote, produced and starred in her own project "The Ride Home." After a successful screening at the Vancouver International Women in Film Festival, Taylor was awarded with rave reviews of her production. Taylor has also successfully partnered with Ben Bilodeau Productions, working on creating film and theatre, right here in Vancouver.
Being such a dedicated and hard working student, Taylor was encouraged to pursue film writing by our very own NIC Acting Department head, Philip Granger, when he encouraged her to write her own scenes for the internationally released New Image Entertainment film, "Bad Building," in which she also had a starring role!
After an amazing performance in that production, Taylor has now gone on to become represented by the reputable Cue Talent Agency. Taylor can recently be seen in CTV's "The Good Doctor" and a recent commercial for Skip The Dishes! We are so proud of her amazing accomplishments. Congratulations Taylor!
---
Our Students Are Directing Movies
Mary Galloway has been an ongoing source of inspiration to students, alumni, staff, coworkers and so many more ever since she graduated from our Film Acting Conservatory, and as is apparently her ongoing tradition, she's come out with even more to wow us with as she focuses her skills on her directorial debut on Spirit Glitch:
As stated in Vancouver Courier's article "Vancouver filmmaker explores inner lives of Indigenous women", Galloway explores the delicate yet necessary subject of Canadian Genocide, a phrase coined in a government report describing the violence, trauma and systemic neglect faced by Indigenous women and girls over the decades.
The report made more than 200 recommendations, and noted that while the number of Indigenous women and girls who've gone missing is estimated to exceed 4,000, there's no way to actually know the true number, and it's probably far higher.
Spirit Glitch expresses the impact of colonial genocide on Indigenous women and girls by taking us into the interior life of a woman (The Flash's Jessica Parker Kennedy) who is struggling to hold her spirit together in the midst of relationship and colonial violence, homophobia, intolerance and psychic and psychological stress.
Spirit Glitch is one of 30 films that received funding earlier this year from Storyhive as part of its first-ever Indigenous Storyteller Edition. Each awarded project received $20,000 in production funding, as well as support, mentorship and training. Galloway took this amazing opportunity to bring a truly crucial story to life for the masses to experience and gain an important glimpse of the lives of indigenous women in society.
---
Acting in Mexico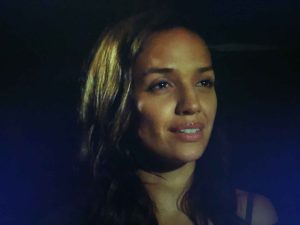 Erika Hau, has an established theatre career in Mexico. Wanting to elevate her career to the next level and break out into film, Erika made the choice to come to Hollywood North and train with one of the nation's finest acting programs: New Image College Film Acting Conservatory.
Erika is a dedicated student, who has shown her passion for acting by excelling in her studies. We are happy to report that Erika has already booked her first North American acting job, a television commercial! She has also just finished her demo reel and is currently filming the web series, "Home Made". On behalf of the New Image College family, we are so proud of you and congratulations!
---
Sally Does Movies
All In: With Sally Satfield from New Image Entertainment on Vimeo.
"All In: With Sally Satfield" is the story of 10 strangers that are brought together by a strange and mysterious invitation. Each of the teens arrive under the assumption that they are part of a dance contest.
We soon meet our over-enthusiastic host, Sally Satfield and her silent side-kick Harold Hark, and we discover that when you lose in this competition, you lose more then just a chance at the winning prize. Note from the director.
"I come from an acting background, and I find whenever I am working on a project it takes me a week to get through the trial period of where you are becoming comfortable with your creative collaborators, and they with you. What made this shoot so interesting is that we only had two weeks to develop and shoot the whole thing! Which means we had to warm up to each other fast!
Think of it kind of like speed dating for film makers! But I think this accelerated way to make film really forced everyone to be on our A-game man, I mean we were literally shooting 12 to 14 hours straight – pizza and soda between takes and right back to it!
It made it such an incredible experience and it was so cool for me to watch their development, since for of most them it was the first time they had ever been on camera! By the end I think we all felt like we had just finished a mini marathon… and I feel that our hard work, dedication, blood, sweat and pizza sauce stains really show on camera!"
---
Sarah Matsushita
New Image College Co-op Film Acting Conservatory Graduate Sarah Matsushita came from Japan to follow her dream of acting in North America. Dreams do come true when you work hard for them. Sarah has just filmed a guest spot on the hit WB series "THE FLASH".
What a great start to an already promising career! While in school Sarah met and was signed to one of Canada's top talent agents, Roxanne Kinsman of KC Talent. Right after graduating, Sarah was cast in the much-anticipated Web Series "AFTER HOURS" shooting in Vancouver, June of 2016.
While Sarah attended the New Image Film Acting Conservatory Program she acted in three plays, including a very difficult role in the play "The Laramie Project" at the beautiful PAL Theatre near the famous Stanley Park.
Sarah immediately stole the hearts of everyone who saw her performance in the hugely successful theatrical production. Sarah was also cast as a street drug-addicted teen in the film DENIAL, as well as playing a leading character in the Web Series film Noir project Nun-Noozle which is currently in post-production.
Yu Sarah Matsushita traveled from Japan in 2014 to New Image to take our Film Acting Conservatory. Sarah took two years with us, dedicating herself to her studies, improving her English, and using her unique experience to become an amazing actress. "I made a promise to myself I will never give up to continue to create my own work as an artist and a person.
I feel so grateful that I have met so many amazing people through acting." – Yu Sarah At the end of her two years, Sarah would sign with KC Talent under the formidable Roxanne Kinsman. It wasn't long before she was out auditioning, and would soon land a supporting lead role in the web series "After Hours".
Sarah would follow this up with work on a commercial for Johnson and Johnson, this experience would prove to be unique as she would not only be hired as an actress but also as an interpreter. Sarah found this to be an amazing opportunity to learn so much more about filmmaking.
She recently landed a lead role in an indie film "Slapping Ninja vs The Space Monster" and a lead role in a second sci-fi web series called "Northern Base Adventures: Polaki Eclipse & Stranded". "I can't believe how much I have been supported by all those wonderful people starting from New Image College.
I still remember the first time I came to the school I knew immediately wanted to go to this school. I didn't tell my parents and after I got accepted I told them I'm going to acting school. They were very surprised but couldn't deny my decision. I only told them to trust me and asked them to give one year to go to school. Then even after one year, they gave me an extra year to study!
I believe they are happy that I keep busy at what I really enjoy doing and have found who I really am. New Image College is my HOME in Canada and the foundation of my artwork." – Yu Sarah.
We are so proud of you Sarah! Your dedication and hard work will continue to pay off! We are thrilled to have you a part of the NIC family. We are so proud of you Sarah Matsushita!!!! Way to go. OUR GRADUATES WORK!
---
TWO Graduates in Netflix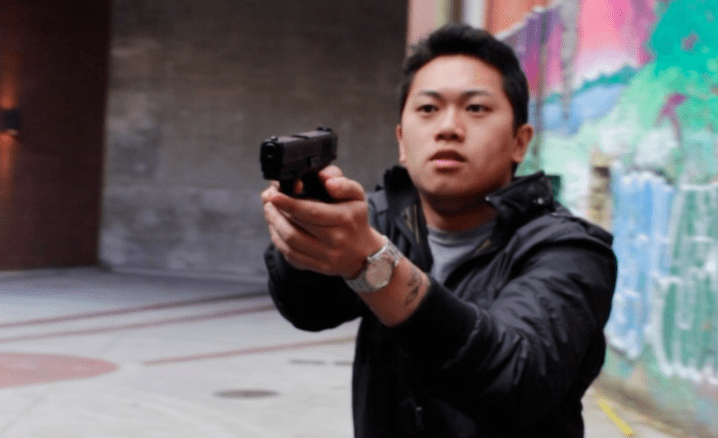 Netflix series "TRAVELERS" has books two New Image College Acting Conservatory graduates. Mike Li and Ronald Patrick Thompson. They have been cast as partners on the critically acclaimed series.
Both worked very hard and are amazing actors. We are so proud of them both! CONGRATULATIONS Mike Li and Ronald Patrick Thompson !!!
---
Our Students Lands In A Feature Film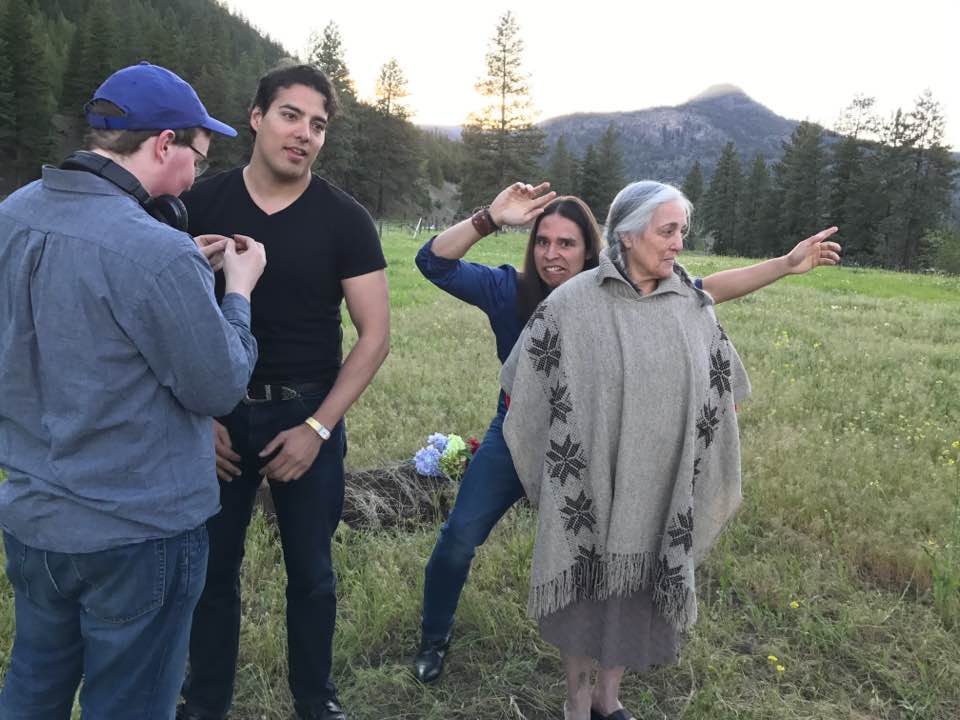 Paul Grenier has landed a lead role in the feature film "INDIAN ROAD TRIP". Paul has been one of our most dedicated actors who would make small steps towards his goals every day.
Last year he was cast in the mini-series shooting in Hungary called "James Town," He and fellow New Image College acting graduate Kendal Charters were both cast and flew to Europe to film for 3 weeks.
Now this year Paul steps into his first major role in a movie. We are very excited for him because we know how hard Paul has worked to get here.
CONGRATULATIONS PAUL GRENIER WE ARE SO PROUD OF YOU!!!!!
---
Our Students Are Working With Peter Hanlon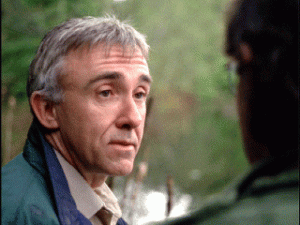 New Image College's Group 48 recently did scene presentations of work from their first module. The first presentation was American Contemporary scenes directed by Peter Hanlon. The second presentation was a collection of scenes from Shakespeare's work assembled into a performance piece guided by John Emmett Tracy.
We love that our students feel a sense of accomplishment with each module.
CONGRATULATIONS GROUP 48!!
---
Working With A Horror Legend
Roberto met his agent Ester Cohen during his audition portion of his training at New Image College. This is where we have some of Canada's top agents and casting directors come in and meet our actors. Ester instantly wanted to represent him, and has had him auditioning for big roles in film and television weekly.
Since graduating Roberto has booked a commercial, a supporting role in a LUCHAGORE feature film, and is now doing two plays back to back. "ARSENIC AND OLD LACE" Playing Teddy Roosevelt and then the lead in " SPRING AWAKENING" playing Moritz!!!! Roberto was one of our hardest working students and now it is paying off. This is going to be a big year!!
Congratulations Roberto!!!
---
Featured in Speileberg's Movie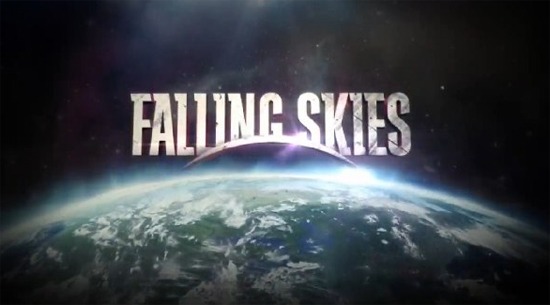 Another New Image College Acting Conservatory Success Story: New Image College Conservatory Acting Graduate Seth Whittaker books a big DC show for Warner Brothers Studio.
That's all we can so for now. But we can talk about the amazing acting he has been doing starting with Steven Spielberg's "FALLING SKIES", followed by the iconic "THE X FILES", "I ZOMBIE", " MOTIVE", 2017 feature film "CRASH PAD".
Just to name a few. Both Seth and his brother Daniel graduated with honors. They were two very hard-working students and now they are very hard-working actors.
---
Casted in A Movie in New Orleans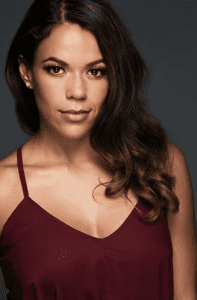 Madeline Claude has been cast in a lead in the feature film "Laveau" shooting in New Orleans.
Madeline Claude came to Vancouver from Montreal to study acting with New Image College's Film Acting Conservatory Program. Madeline was a wonderful French-speaking actress who dreamed of working in both English and French. While attending New Image Madeline was one of our hardest working students. Always first to arrive in the morning and last to leave at night. Her dedication is paying off.
Please read the Los Angeles Backstage article written about casting her in film.
Congratulations Madeline!!!
---
She Got Nominated For a Leo
New Image College Acting Conservatory Graduate Mary Galloway is on FIRE. Nominated for the Leo Award for best supporting performance in a feature film. She is currently filming Never Steady Never Still.
Read the article written about Mary.
She also received the 2016 Women in Film & Television Vancouver On Set Headsets Newcomer Award!
---
Flown To Europe
Conservatory Acting Graduate's Paul Greiner and Kindall Charters have both been cast in a secret major tv show shooting in Budapest.
That's right Europe!!!!
This has been a life long dream for both actors. To be traveling and acting in a film. Paul and Kindall worked very hard and excelled in their studies while attending New Image College's acting program. Their focus and dedication are paying off. We are very excited for these two amazing actors.
You can see both Kindall and Paul in New Image Entertainment's: "A SAFE PLACE"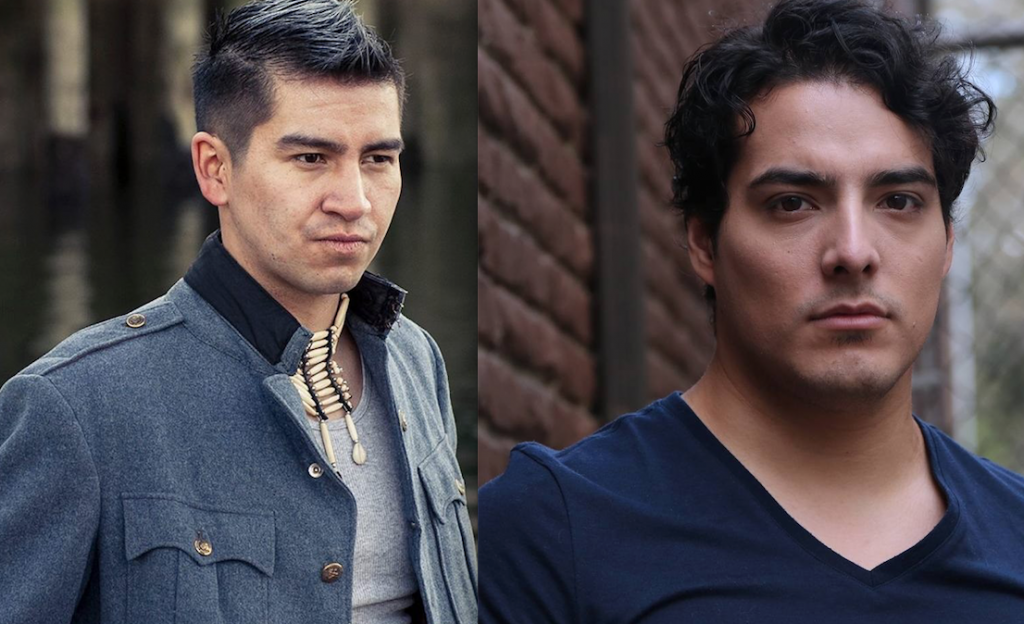 CONGRATULATIONS TO PAUL GRENIER AND KINDALL CHARTERS, WHO ARE BEING FLOWN TO AND GETTING PAID TO ACT IN EUROPE!!!!!
---
Booked A Role On A Netflix Show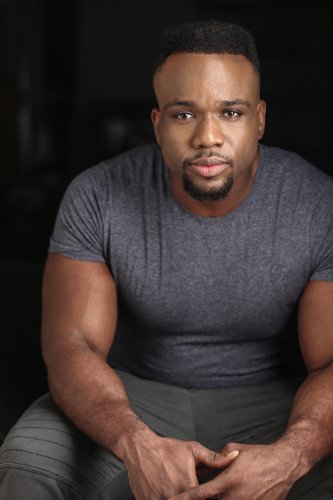 New Image College Acting Graduate Seth Whittaker has booked a role on the much anticipated Netflix series "Altered Carbon". Seth worked very very hard while he attended New Image College's Film Acting Conservatory Program and his hard work is paying off.
His agent Andrew Webster from Webster Talent witnessed Seth's talent when he saw him during the audition portion of his training at New Image. This is where the actors of New Image meet with casting directors and agents.
Recently he guest-starred on "THE X FILES" as Fitzpatrick, IZOMBIE as Muggsy, Stephen Speilberg's "FALLING SKIES", CONTINUUM, THE FLASH, to mention only a few. Now Seth is starring in the play "SAL CAPONE" written by one of our illustrious instructors Omari Newton. Seth is very excited to be back on the stage. CONGRATULATIONS SETH!!!!
Seth and his brother Daniel both attended New Image College's Acting Program where they met their agents and started their careers. CONGRATULATIONS SETH AND DANIEL!!!
---
Student Featured in Supergirl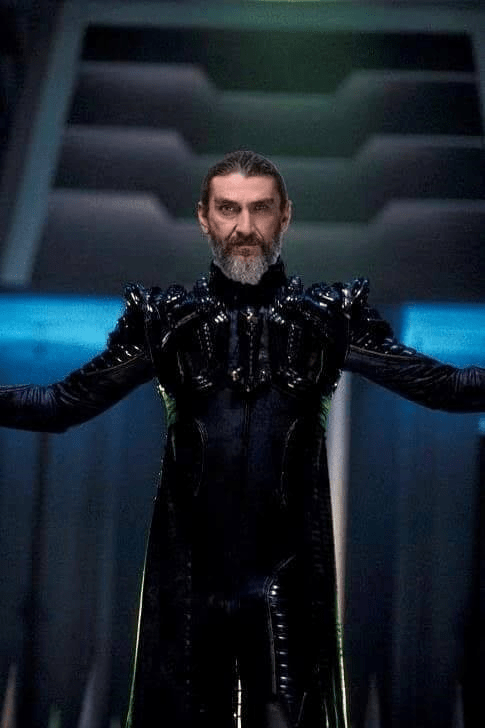 New Image College Acting Graduate Gary Starkell reoccurs on "SUPERGIRL!!!! While attending New Image College's Conservatory Acting Program Gary was an amazing student, always doing extra for everyone.
Then after he graduated, Gary was our regular go-to alumni student, we wanted to include him in everything and he always wanted to be involved with everything; our feature films, web-series, short films, and theatre productions.
Gary knew deep down inside that if you immerse yourself with creative, like-minded people you will be successful. Gary has worked very hard every day. But more importantly, he was a leader.
We love Gary Starkell because he is a fighter, a believer in what's possible!! Gary never gives up!! We are so proud of him!!
---
Acting in The Taming of the Shrew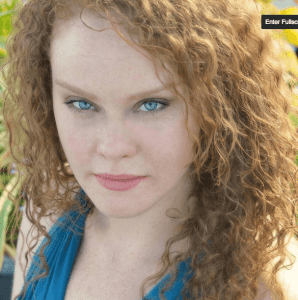 New Image Acting alumni Michelle Cyr is a recent graduate of New Image College's acting program and has already hit the ground running. Currently, she is acting in "THE TAMING OF THE SHREW" and at the same time is shooting a new web-series called "TIPS".
Michelle while attending New Image College not only excelled in her acting training but ran the shows as a first assistant director on both theatre and film productions.
Michelle was introduced to her agent by New Image College and since signing with Julie Kay Michelle has been very busy auditioning and booking gigs. We are so proud of her!!
Come watch and support Michelle Cyr in Vagabond Players' great production of Shakespeare's "The Taming of the Shrew". Michelle kills it!!!
Playing at The Bernie Legge Theatre. August 5th to 21st. Thursday – Saturday @ 8:00 PM / Saturday & Sunday @ 2:00 PM — with Michelle Cyr at Vagabond Players at The Bernie Legge Theatre. Choose your seats and purchase your tickets at www.alchemytheatre.ca/tickets
---
Jarod Joseph wins BEST ACTOR at 2016 HOLLYWEB FEST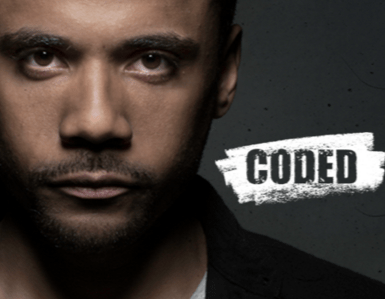 It all started when Jarod Joseph packed up a few belongings and relocated to Vancouver in hopes of trying his luck as an actor. Shortly after arriving Jarod started the film acting conservatory program at New Image College.
After he graduated, in a relatively quick manner, Jarod had established himself as a newcomer to watch for, securing recurring roles on major American networks. Jarod was first cast in the blockbuster fantasy adventure film Percy Jackson & the Olympians: The Lightning Thief alongside an all-star cast including Sean Bean and Uma Thurman.
This break was soon followed by guest star appearances on FOX's Human Target and AMC's The Killing. Jarod's red-hot career continued to build momentum with recurring roles on ABC's fantasy series Once Upon a Time, the J.J Abrams produced, FOX cult hit show Fringe, The CW's hit drama series The LA Complex and a series regular position opposite Thandie Newton, in DirecTV's original series Rogue. Jarod's star is on the rise and there are no signs of it slowing down.
In 2015, Jarod joined the cast of ABC's summer hit Mistresses for the show's third season and recently returned to shooting The CW's futuristic drama The 100 in the role of fan-favorite Nathan Miller.
He can also be seen starring as the lead on the Canadian series Coded, a role in which he received a UBCP/ACTRA Awards Best Actor nomination.
---
Ronald Got Featured in Rogue
Ronald just has been cast on the hit series "ROGUE" and the new series "FREQUENCY".
He also has a recurring character on "SUPERNATURAL". Ronald was first to arrive at class and last to leave.
He would not only learn his lines but would know everybody else's as well. The hardest working acting student to date. And we are so proud of him. Ronald met his agent Kathy Carpenter, owner of KC Talent during the audition portion of his training.
This is where New Image College invites casting directors and agents to come and meet our students. Since graduating Ronald has been auditioning consistently. Here are just a few of Ronald's credits: FLASH, I ZOMBIE, ARROW, FALLING SKIES, FRINGE, SMALLVILLE, and the list goes on!!! Congratulations Ronald!!!
---
New Image College Conservatory Acting Graduate Regan Ross books "ROGUE" and is on hold for Antoine Fuqau's new series "ICE". Regan was a very hard working student.
She was always first to arrive and last to leave Regan's hard work paying off. Some of her recent credits include. "Girl Friends Guide to Divorce", "Supernatural" CONGRATULATIONS REGAN!!!!
---
Roberto Gutierrez plays Moritz in the play "Spring Awakening" at the PAL Theatre. Roberto was one of our kindest and most dedicated acting students. He worked very very hard while in school and now it is paying off. Roberto told us that he has dreamed of doing this play forever.
DREAMS DO COME TRUE!