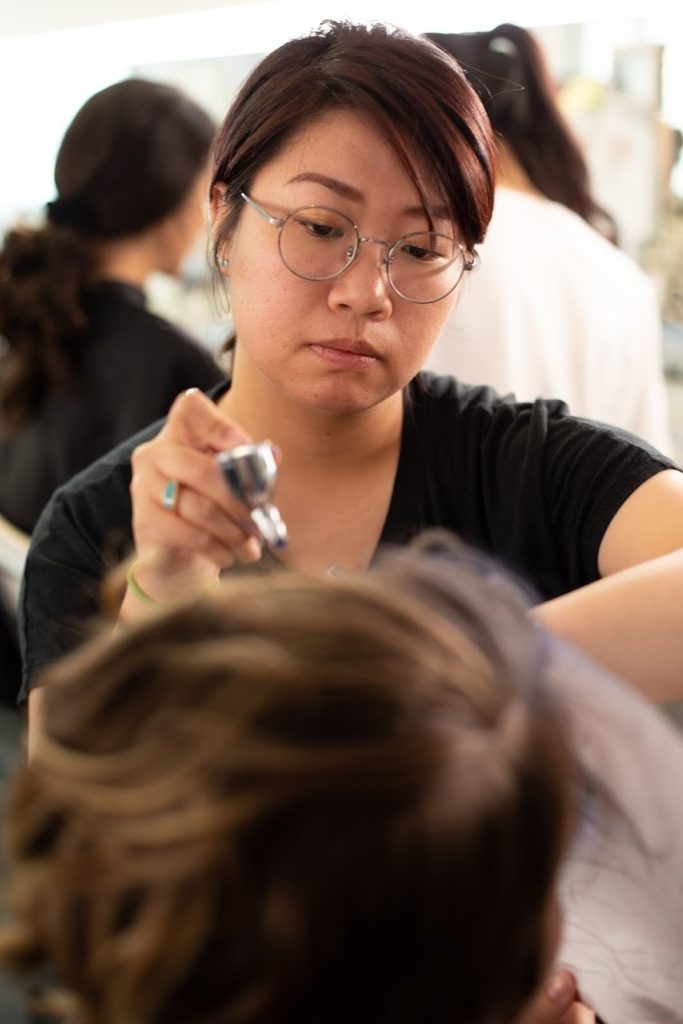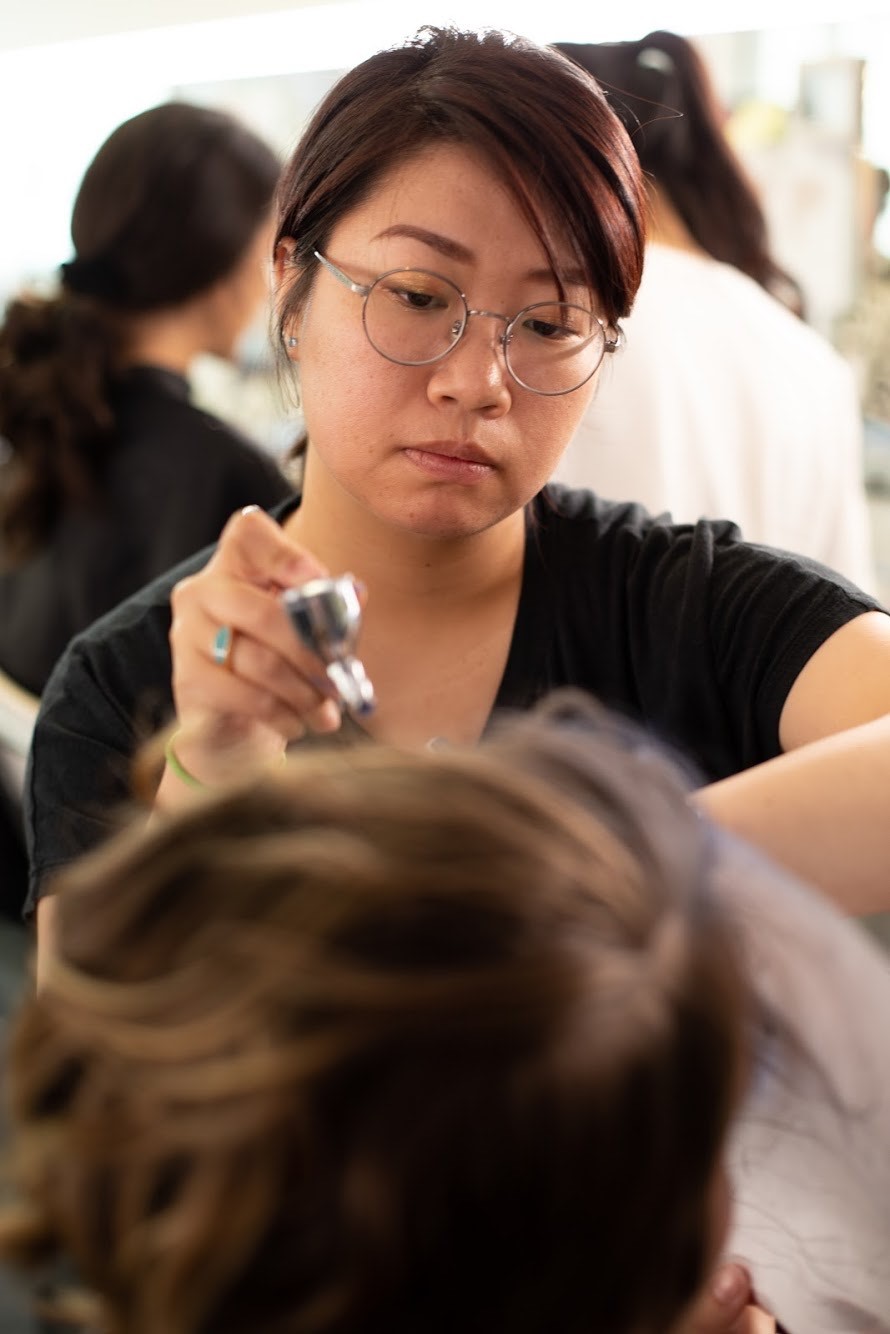 How Exciting it must be to Graduate and then start working , Well this is what happened to Sakura Oyama.
Co-op Fashion and Film Makeup Design Graduate Sakura Oyama lands a commercial produced by "Big Picture Content & Media".
Sakura is on her work portion of the program and when asked about her amazing first experience.
Sakura had this to say "It was my first time as a key Makeup Artist. I kept in mind what my instructor Samantha Dempsey taught about keep checking the monitors to make sure the actors makeup was looking perfect all the time on the camera".
I followed the way she taught me and everything turned out great. It was a great opportunity for me! It pays to have educated, Informed Instructors at your side.
---
Doing Makeup For The Movies
Fashion and Film graduate Iveta Duong is realizing her dreams, Iveta is working onset on the Movie "Times Helmut" with Actors Peter New, Lou Ticzon and Paula Burrows .
This is an example of Nic`s Dedication to educating all of our Students so they Can Work.
Congratulations to Iveta and keep it going .
---
Christa's Talent is Taking Her Places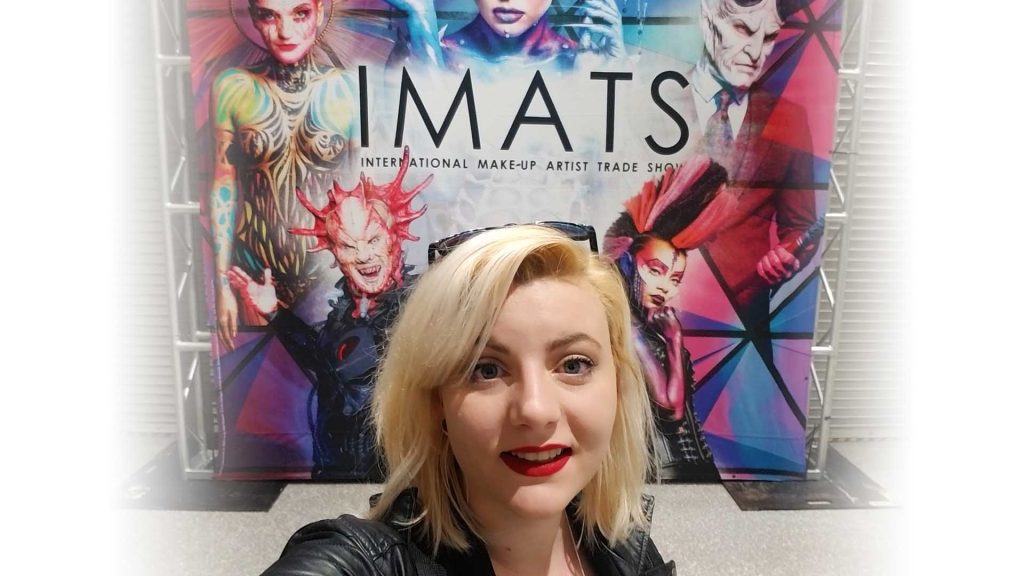 Christa Mills competed at the IMATS (International Makeup Artist Trade Show) Battle of the Brushes 2018 in Atlanta. With her genuine pizzazz and talent, she created a piece that did us ever so proud.
Christa even come back to us to share her experience and it was wonderful to re-connect with her. She let us know about how amazing the culture is in Atlanta and how being surrounded by so many creative artists was a true inspiration. She even shared a couple tips for our students as they head out to compete in their own IMATS in the future.
Here are her tips in her very own words:
Print all your travel documents, your invitation letter, and an itemized list of your kit. Keep a copy with you, I got drilled hard by border security (for about 45 minutes!) who wanted to make sure I wasn't working illegally in the U.S.
Really explore your colour palettes. Use different hues. Go BOLD!
Schedule to get there more than a day early, and leave at least a day later. Take in the area around you, and give yourself time to breathe!
Plan ahead about flammable items, and talk to your airline before your travel date to see if they can accommodate.
Don't underestimate the power of a good costume. It really completes the look, and subconsciously is judged even if it's not on paper.
Hone your skills on different skin tones. Vancouver is quite light on our palette, and it was really inspiring to be in a different demographic. I have a feeling my portfolio is going to get quite the shake up!
Thanks for the amazing share Christa, and again, we are so proud of you for having met this incredible challenge!
---
Tom Nominated for Best Makeup at the Leo Awards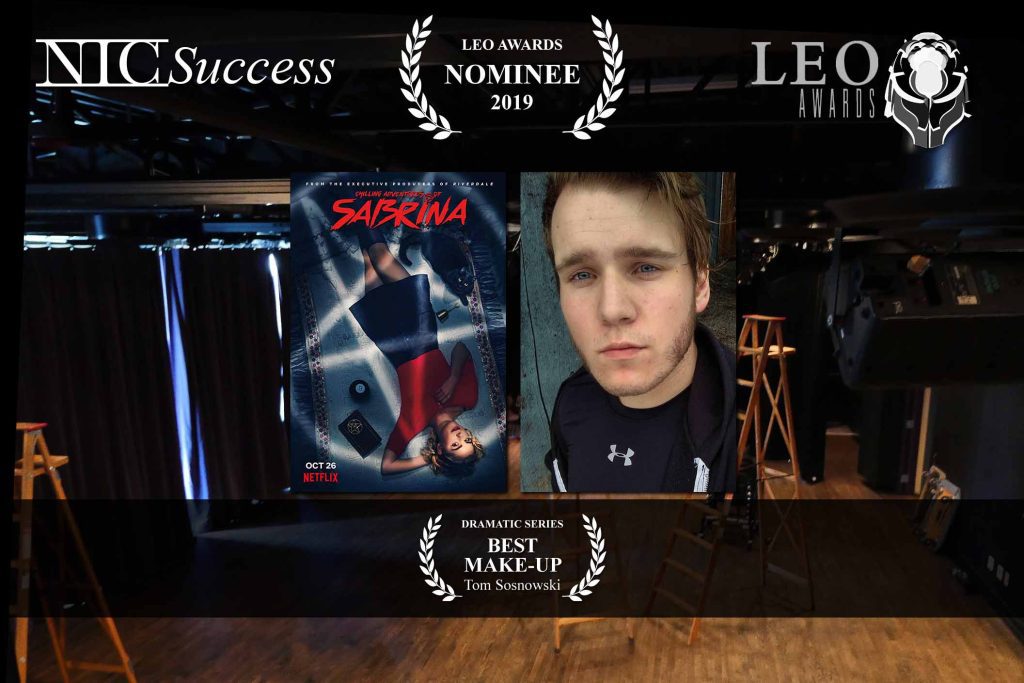 Tom Sosnowski has been nominated for Best Make-up on a Dramatic Series for work on the series Chilling Adventures of Sabrina, Dreams in a Witch House. Tomasz completed the Fashion & Film Make-up Design Program at NIC back in mid 2011 and was an excellent student that kept hitting the mark while also going above and beyond.
He constantly volunteered for projects, went to the London IMATS, and just kept proving himself again and again. He came to us an artist hungry to learn and do more with talents he'd been developing his entire life.
Starting with simple tools such as waxed crayons as a child and constantly evolving both his medium and his tools, gave Tom and opportunity into becoming an intern for SFX Studio (As part of its Make-up Effects Lab). Tom then found New Image, and the rest, as they say, is history.
After New Image, he went on to produce amazing work for different projects, even getting featured by the Vancouver Sun (For his work on the hit TV Show Gotham). From there, he just kept proving that when you put in the work, passion and creativity into anything you do, you are bound to become a success.
We are very proud of you Tom. We wish you the best of luck on this nomination. It's always great to see the amazing skills our students have developed since being with us. That's why we do what we do.
---
Isabelle Nominated Best Makeup at the Leo Awards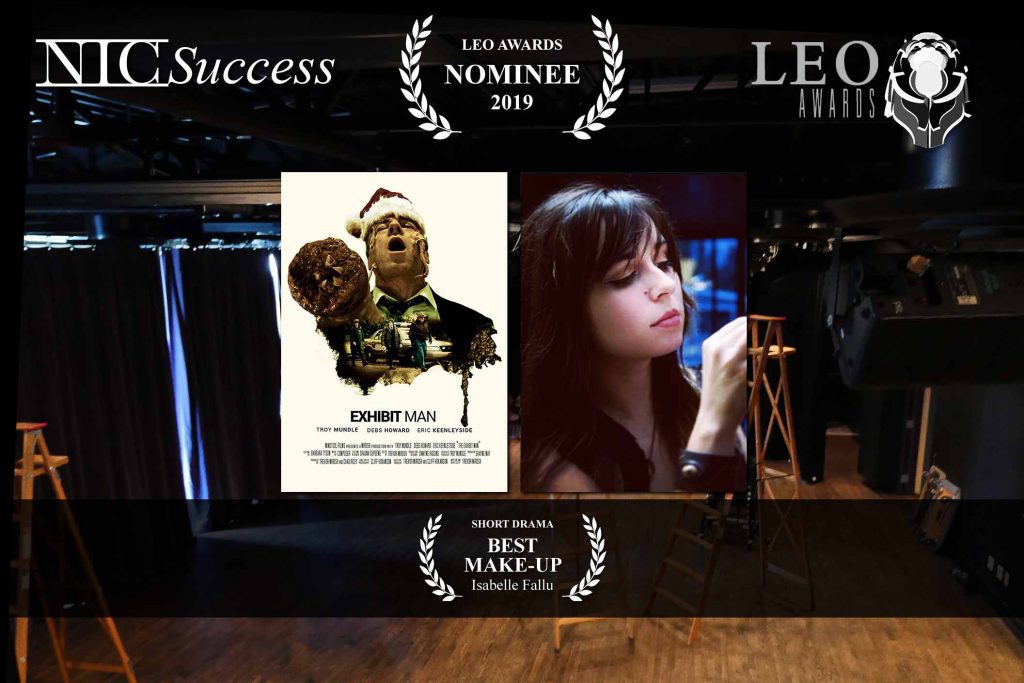 Isabelle Fallu, one of our make-up program alumni, has been nominated for Best Make-up on the Short Drama Exhibit Man. Isabelle came to us a young woman filled with artistic passion. Through sheer strength, will and dedication, she became a theatre actress and delved into set building/make-up.
Then it transformed into creative pursuits expressed through events such as Spooktacular. Like most, life didn't offer Isabelle a straight and steady path to her dreams. She went through various challenges but constantly pursued her passion and always stood tall for her ambitions.
Therfore, it's no surprise to us that we now see her budding into a nominee for Best Make-up on the short drama Exhibit Man. In her own words from when she first came to us: "My name is Isabelle… and if there is one thing that can easily be said about me it's that I love art, I live for creation, and passion, beauty, destruction, love, and poetry, in every shape and form… most of all I want to show the world what I can do".
We are so proud of you Isabelle. We wish you the best of luck on this nomination and are very excited about all the work you've done and will be doing as you move forward with your amazing career.
---
Adrianna Hired at Sephora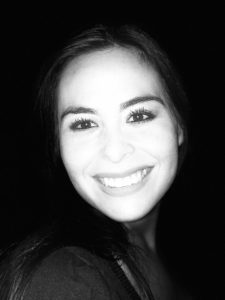 Adriana Salgado started working at Sephora Robson in downtown even before she finisher her program. A story that is quite familiar for most of our students here. Once they know you are at NIC, the doors truly open. Adriana has been using her new skills and techniques as a "colour consultant".
Adriana applies makeup daily using products such as foundations, eyeshadows, highlight and contour, etc. She helps her clients put together a whole look and find the right beauty products for their skin.
When asked about how the Program helped her achieve success in the industry, Adriana doesn't hesitate: "I believe the program gave me the foundation and the necessary knowledge to be able to carry out my work with security and success as well as develop my skills to continue to achieve my goals".
Adriana loves working with makeup and finds it fun, creative and amusing. The best part, she says, is when she sees her clients are happy with her work. Way to go Adriana!
---
Samantha @ Sephora
Samantha Creasey-Manley is a recent grad from the one year Fashion and Film Design Diploma program and is now working at SEPHORA. Good Luck in your future career in the beauty industry. You're off to a great start.
---
Christa Got Hired
Christa has already landed herself a job in the makeup industry. She'll be working in the cosmetics department at Shoppers downtown Vancouver. Stop by and get a skin consultation from Christa and let her show you some amazing new products.
---
Izumi's Doing Cosmetics in Japan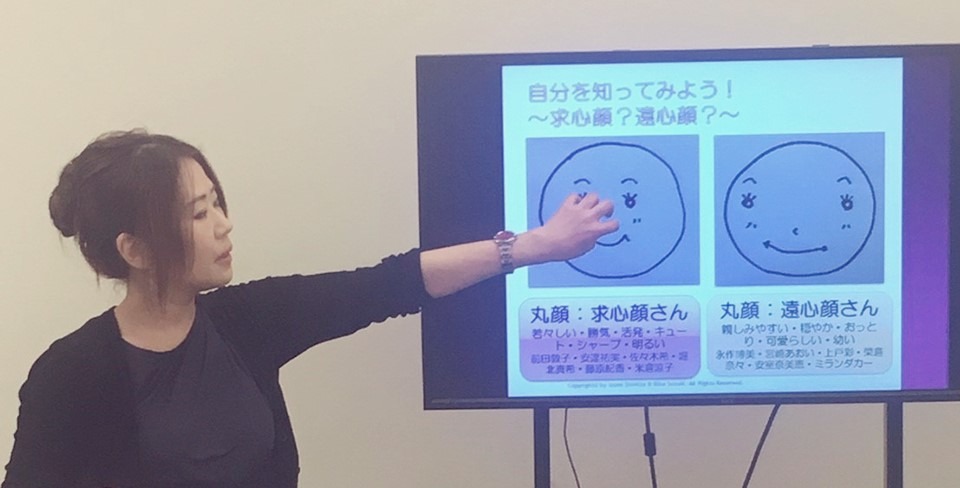 Here is what Izumi Hasegawa (Shimisu) from Japan is up to. She was an international student in Vancouver. Words from Izumi: "It was a very excellent experience for me.
I love New Image College. I would like to shre the prestige of your school to other international students like me in Japan. Now I work as a makeup therapist in Japan, and make people happy and positive as a makeup therapist. With the skills I learned at New Image College.
After graduating from New Image College, I learned The Iwai style makeup therapy which was established by Ms. Yumiko Iwai in Japan. The Iwai style makeup therapy theory is a type of cosmetic therapy".
That is amazing Izumi! We are so happy you are doing so well and making people feel more confident about themselves. Keep up the good work!
---
Miellyn is On The Way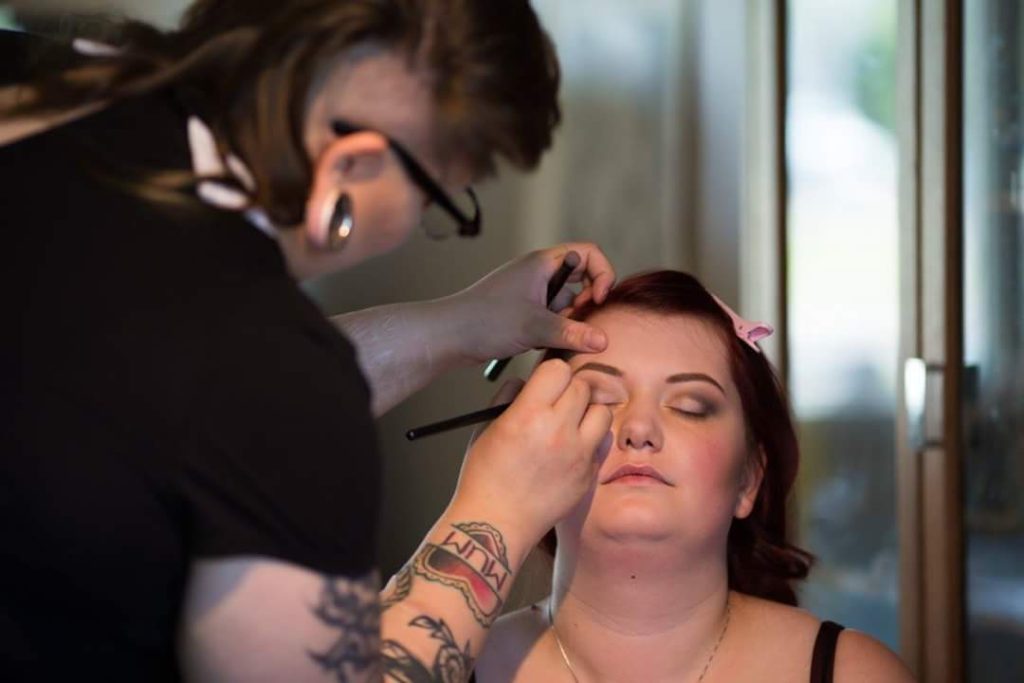 Miellyn is a well rounded and gifted student that came to us to study both Beauty Makeup Art as well as Fashion & Film Makeup Design. Skills she has obtained, fine-tuned, and is now clearly applying in the best of ways on her path to the Makeup SFX industry.
She is a genuine inspiration to both fellow alumni and students that continue to come and join the ranks of NIC's community, and an even better example of why it's so important to always foster an amazing network of contacts, friends, colleagues and coworkers that are always at the ready to hit the ground running on amazing projects, or simply for that tap on the shoulder for that next job!
In her own words:
I took the 2016-2017 Fashion and Film course. Previous to that I took the Beauty Design course, so I spent a total of 13 months at New Image. I've just wrapped on two indies this week, and a few others in the last month. I'm currently working on collecting my days for my union application, and am hoping to start working on MOWs in the near future. Theres always so much being produced in Vancouver, I'm always taking any and all film work I can get! I work as a Makeup Artist and my primary focus is SFX. The cool thing about indie films is you can kinda try your hand at a lot of other positions. Sometimes you help with load-ins, wardrobe, props, set dec, etc. It really gives you an appreciation towards everyone on set because they all work really hard. I really appreciate the team at New Image for always sending out news about opportunities and available positions, as well as union info. I've gotten to do some events through them and it's always a fun time. They help you showcase your talent and get connections.
We are so proud of you Miellyn, and we can't wait to see what the future brings as you continue exploring the amazing world of Makeup SFX.
As ever, we are proud of your great achievements and wish you the best on this road to success Miellyn!
---
Elise Went Straight To The Big Leagues
Elise landed herself a job at LSFX Studio, which is conveniently located in the "heart" of the Vancouver film community.
The 5,000 square foot studio called Lindala Schminken fx inc, has been the top, go-to makeup effects studio in Western Canada for more than 25 years. They specialize in creating character prosthetics, animatronics, creatures, and duplicate animals.
They have been credited on more than 50 feature films, including, WARCRAFT, GODZILLA, SEVENTH SON and STAR TREK 3. Television series include SUPERNATURAL, ONCE UPON A TIME, and The X-Files to name a few. By 1998, the founder, Toby and his fantastic creations had earned two Emmy Nominations for Outstanding Makeup for work on The X-Files.
Toby has also been nominated for his family/fantasy creature creations, nominated twice for an Emmy for Outstanding Makeup for work on Once Upon A Time and Voyage of the Unicorn. Way to go Elise! You are so talented and we are so proud of you.
---
Natasha Rogers is working at Amazing Ape Productions


Natasha has so much talent, we aren't surprised she landed herself an awesome job doing makeup fx so soon. She works for Werner Pretorius, an artist with over 23 years of experience as a sculptor and designer, and Richard Darwin who has been doing professional makeup for over 25 years specializing in animatronics.
Amazing Ape Productions does conceptual design, special character, creature effects, animatronics, prosthetic fx, body fx, 3D replicator presentations, special makeup fx, animal replicas, and puppeteering.
Some feature films they were involved in are, Star Trek Beyond, Robocop, X Men, Apocalypse, Mission Impossible, The Neverending Story, Marmaduke, The twilight saga, Hotel Rwanda, and 101 Dalmations to name a few.

Way to go Natasha!
---
Kiana is Working At WCT Productions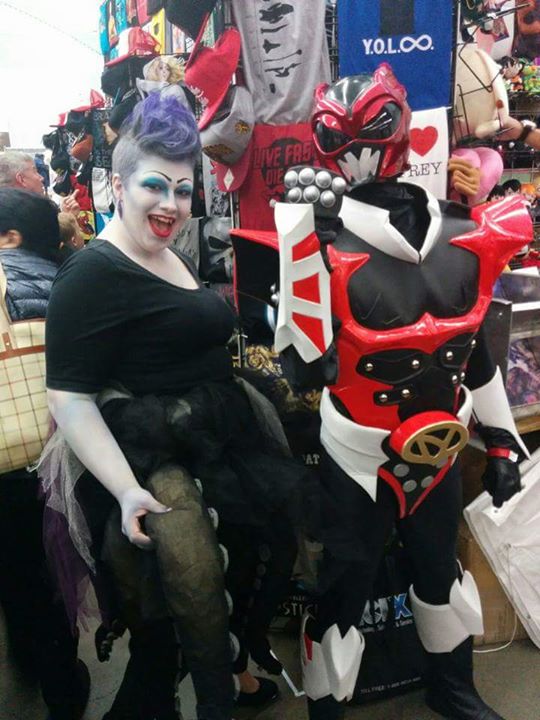 Kiana Larson is now working at WCT Productions with Bill Terezakis. Bill is known for his work on X-Men 2, Rise of the Planet of the Apes, I Robot, and the X-Files. Makeup artist Magazine says: "TV series The X-Files, returns to television as a six-episode miniseries.
The revival features most of the original department heads, along with special makeup effects designer Bill Terezakis and his Vancouver-based shop, WCT Productions. Terezakis had worked on the 2008 film The X-Files."
Way to Go Kiana!
---
Kayla Did Makeup for Cryptos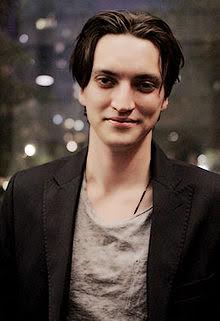 Kayla was the key makeup artist behind "Cryptos", with star Richard Harmon! NIC is proud to say that Kayla is an inspiration to all students past and present.